Social Media
Everyone knows that having a social media profile is pretty much a must have for any online business.
In fact, many business will have multiple profiles across multiple platforms. This is fine if you have the time to manage them all (this is why social media tools such as Content Studio are so popular to streamline posting to multiple platforms).
But, if you happen to be short on time (and who isn't, right?) then the most important platform to focus on for the vast majority of marketers would still be Facebook.
It is pretty simple to set up a Facebook page, but you want to optimise it so it will perform as well as it possibly can.
So, with that being said, if you want an engaging Facebook business page, here are 15 things you need to know to get the best results:
1: Don't Confuse Business Pages With Personal Profiles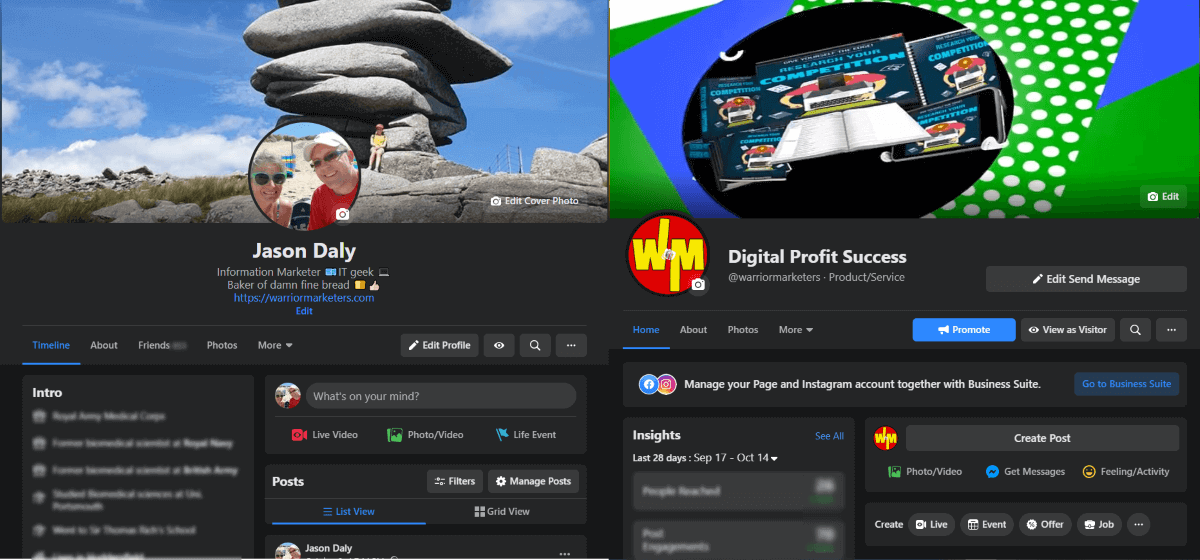 If you create a personal profile for your brand instead of a Facebook Business Page, you're going to miss out on content creation tools, analytics and paid promotional opportunities.
Worse yet, people will have to send you a friend request before they can actually engage with you.
Business pages are there for a reason; to engage potential customers and encourage them to take some kind of action, so don't make the mistake of trying to use a personal profile for your business.
Of course, you can share content from your page on your personal timeline, and promote your page on there too so you can get more folks to your business page and you should be doing this, although do it sparingly.
2: Don't Create A 'Professional Profile' Associated With Your Business
Let's say you have a personal profile on Facebook and you want a second profile for professional reasons.
This goes against Facebook's terms of service and could get you in trouble.
Yes, there are marketers who have multiple personal Facebook profiles, but if they get caught they could be booted off the platform so the risk isn't worth it.
And why do it anyway? Facebook pages are free, so there really is no reason to try to use multiple personal profiles.
The only reason I can see people doing this is because Facebook does have a tendency to reduce the organic reach of posts from business pages because they want you to spend money on ads and boosting posts.
3: Choose A Friendly, Engaging Cover Photo
This cover photo takes up most of the room above the fold on your Page, so you'll want a high-quality image that attracts and holds your visitors' attention.
You might consider hiring a professional to create this image for you.
Keep words in the image brief and to the point.
Faces work well at holding attention, and bright colors are good, too.
You can also use video on your cover too so this may be a way to showcase your products and/or brand.
4: Use A Profile Picture That's Easy To Recognize
It could be your logo or your headshot if you're the face of your company.
Being recognizable is important to getting found and liked, so choose your picture carefully and then use it consistently.
Don't get too caught up on whether to use your face or a brand logo; the key is to be consistent.
Personally, I think most would do well to at least start out with a brand and design a recognisable logo for it.
Personal branding works for some, but if you look at most traditional business, they are full of logos rather than personalities.
Whatever you choose to do in your business, keep doing it so people will be able to associate it with your business brand.
5: Fill Out Your 'About' Section
This isn't visible anymore when visitors arrive on your page, yet it's still one of the most clicked-on items when they want more information about your business.
Put in your general description, company information, your story or whatever fits for your business at a bare minimum, but the more you fill in the better.
Visitors will want to know about your business so give them the information they are looking for. If they can't find it, they may decide to look elsewhere.
The internet is awash with potential competitors for your business so you need to make people trust you and being transparent and giving them as much information about your business as possible will help them to start building that trust.
6: Add A Call-To-Action Button
This is a great way to drive traffic to your website and build your list.
Your call-to-action button might be to have visitors watch a video, sign up to your list and so forth.
All your posts will ideally have some kind of call-to-action, whether that is to go and read a blog post or to visit a sales/squeeze page.
Getting people off Facebook onto a platform you own is a smart move as you have much more control on your own websites.
7: Post Often, But Not Too Often
If you don't post for months at a time, then your business does not look professional. Heck, you don't even appear to be in business anymore.
However, if you post non-stop, you'll likely annoy people.
It's a matter of finding that happy medium, and that can vary from one business to another.
You can post your own content, motivational quotes, funny memes etc. but you can also post other people's content.
This is known as content curation and if you do this, you should always give the original author credit but it is a good way to be posting content on your page without you doing all the writing.
8: If You Have The Time To Respond, Then Let Fans Message You Privately
It's an awesome idea to let your customers and fans send you private messages – this can result in better customer service, fewer complaints made publicly and even more sales.
However, if you don't have time to respond to these private messages then it might be best not to enable private messaging.
The good thing about using something like Facebook Messenger is that prospects are highly responsive so it is definitely worth considering if you have the time.
You can also use platforms like Mobile Monkey or ManyChat to create an automated sequence that will automatically respond to your prospects when they message you. If you want to make the most of this kind of automation, consider picking up this excellent training course on chatbot marketing by JayKay Dowdall called Destiny.
9: Monitor Your Page And Respond To Comments Promptly
You can monitor and respond to comments using the 'notifications' tab at the top of the page.
If people are taking the time to comment on your posts, it means that they like what you are doing, so really make the effort to respond to any comments that are being posted.
This also has an effect on the Facebook algorithm and may even make your page posts more visible to people who like and follow your page so a win-win situation all round.
10: Pin Important Posts To The Top Of The Page
As you post, older posts get pushed down and buried. But there are times when you want a post to remain at the top, even after you've published new posts.
You can pin one post at a time and use these to promote events, offers and announcements.
Don't underestimate the power of a good pinned post. Make it a strong one with a clear call-to-action as it will be the first post that your new visitors will see when they visit your page and you need to grab their attention and grab it fast!
11: Post Visual Content In Your Timeline
Photos and videos are up to 40 times more likely to get shared on social media, so take advantage of this fact and share lots of visual content.
Memes, GIF's and motivational posts are always good content to post on your page, and if they are good, they may get shared and this will get more eyeballs to your page.
Video content can be particularly engaging for your viewers. Just try to keep them short and sweet; 2 minutes or under tend to work best on social media.
12: Consider Using Live Video
People typically spend more than three times more time watching a Facebook Live video than they do a recorded video.
You can even use tools to let your followers know that you intend to go live at a particular time.
Let them know in advance what the topic will be so they can come with their questions. This can be super engaging and Facebook puts a lot of emphasis on viewer engagement and will push your livestream out to more people.
13: Use Facebook's Targeting Tools
You can target certain audiences with tailor-made updates.
Segment by age, gender, relationship, location and so forth, and then send highly targeted messages to those groups for a greater response.
These tools can be really powerful but may take a bit of getting used to.
However, it really is worth getting to know your audience so you can tailor your content to their needs.
14: Promote Your Page. A Lot
Create an ad to promote your page, choose your target audience and choose your budget. Make sure your ad is directly targeted to your ideal customer and test.
This is where knowing your audience comes into play, as you can get really targeted ads to a highly specific audience to maximise your ad spend.
You might also consider boosting a post once a week as this will again push your page into your followers newsfeeds so they don't forget about you!
15: Measure Your Success
Dig into your page's insights to track Facebook-specific engagement metrics.
Analyze and adjust as needed.
It might all sound complicated, but you'll quickly get the hang of everything here.
So, there you have it. 15 ways to optimise and get the most out of your Facebook business page. If you only implement a few of these I'm sure it will make a difference but imagine what a difference it would make if you managed to implement them all!!
For more information on creating a Facebook business Page, please visit: https://www.facebook.com/business/products/pages